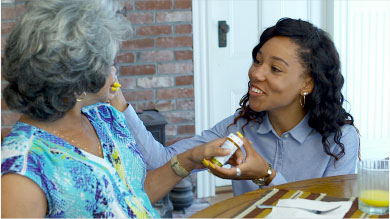 An alternative to assisted living or nursing home placement
What is Gabriel Care?
Gabriel Care is a Massachusetts state-licensed agency offering an alternative to facility living through our Adult Foster Care (AFC) program.
What is Adult Foster Care (AFC)?
The AFC program is a federally-funded MassHealth (Medicaid) -administered program designed to offer a living option for individuals with a medical and/or psychiatric diagnosis who require assistance with their activities of daily living (ADLs) in order to maintain a safe lifestyle within the community. A qualified member of an AFC program is able to continue to live in a home environment with the assistance of a caregiver. The caregiver receives a tax -exempt stipend for their services.
Who Can Be a Client?
To be a client, a person must:

Have MassHealth of CommonHealth Insurance

 Need assistance with one or more activities of daily living (ADLs), such as bathing, dressing, eating, toileting, transferring (in/out of bed; up/down from a chair) and ambulation, or management of behaviors such as wandering or inappropriate / disruptive behaviors.

 Need on-going care and supervision.
If you are interested in applying for AFC services, please contact us.
Who Can Be a Caregiver?

A caregiver must be at least 18 years of age with no physical or mental impairments that would interfere with providing assistance to the AFC client. All caregiver(s) need their physician's clearance on the ability to perform the requirements of the caregiver role.

A caregiver can be a relative, friend or person in the community who is willing to live with the client and provide the needed care. A caregiver cannot be a client's spouse or legal guardian.

A caregiver agrees to provide assistance, supervision and hands-on care as needed, according to the client's individual care plan.

A caregiver must ensure the AFC client's safety and well-being at all times.

A caregiver must agree to a criminal background check (CORI).
If you are interested in learning more about becoming a caregiver, please contact us.